Phantasy Star Online
Phantasy Star Online is an RPG styled game that plays more in the vein of Diablo II or Everquest. Many people play the game online but it is just as enjoyable offline. The main goal is to 'train' your character and bash hordes of enemies as you pick up nice shiny items to taunt your friends. PSO was originally released on the Dreamcast, it had a sequel on that system and since then has had an incarnation on the Gamecube, XBox, and PC.
Sylverant.net is an open-source Phantasy Star Online server written for Unix-like operating systems.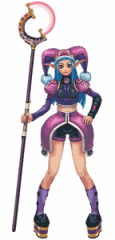 Sylverant.net Server List
Found
The document has moved here.